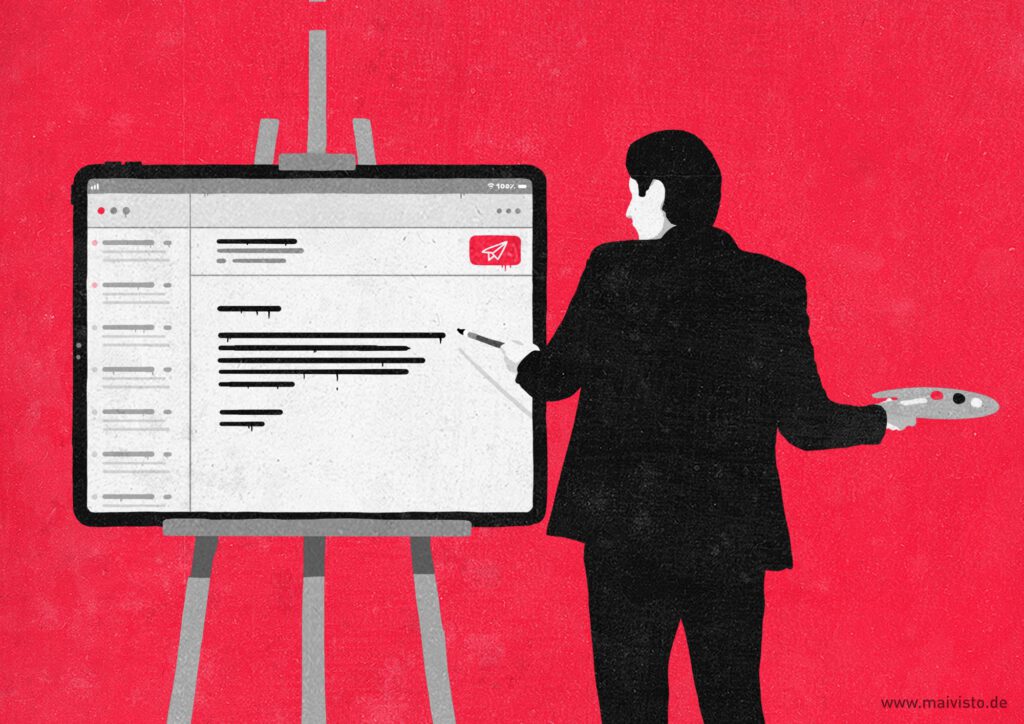 The art of email communication can easily be underestimated. Ideally, reading and writing feel like a pleasant face-to-face conversation. We remain friendly at all times. We keep our sentences short and simple by avoiding filler words and refraining from using unnecessary technical terms. Since we lack gestures and facial expressions, we avoid potentially misunderstandable language. Irony, sarcasm, and sometimes even a joking comment can quickly be taken the wrong way. Unlike in verbal conversation, we can change, adapt or delete what we just wrote. We use this advantage.
That is why we always take a minimum amount of time for writing. It is also always an exercise for us to express ourselves more precisely. Goethe wrote in a letter,
"Dear friend, excuse my long letter, I had no time for a short one."

Goethe
Every conversation is about our togetherness and social behavior. When kindness, respect, and a positive tone are missing, the exchange becomes troublesome for all sides. If we can avoid it, we try not to write when we are in a bad mood. Maybe we just had an annoying conversation with our neighbors or struggled with our tax declaration. Feelings are hard to hide. The person we are talking to can hear our emotions through the phone. It's the same with writing. Our grumpiness will quickly be hidden between the lines if we are not careful, which is unprofessional.
Our grumpiness will quickly be hidden between the lines if we are not careful, which is unprofessional
The three email types: In my experience, there are three categories of writers. We usually recognize the type directly in the first email. When writing, we must always stay true to our own writing style while engaging with our conversation partner and their style
Type A – The person of few words:
This one focuses on efficiency. In two or three short sentences, all concerns are explained. The person starts very few follow-up emails with "Hello dear ___" but gets straight to the point. She also doesn't need to know about every step we take in the process. She may find such updated emails an unnecessary distraction. As long as everything is in place by the deadline, she is satisfied. Since she doesn't like to write much, there's a good chance we still need some info. In doing so, we get to the point quickly in our emails without rambling and small talk. We don't take this brevity as unfriendly. Her focus is on the project. This can only benefit us, and maybe she just wants to avoid disturbing us unnecessarily in the process.
Type B – The structure-loving person:
His emails are well thought out and very clearly structured. All process steps, points, or tasks are listed chronologically or by importance and have additional comments and notes. He has color-coded passages or open questions. He has used paragraphs judiciously. His email usually ends with sentences like "If anything is still unclear, please get back to me" or with questions like "Is this schedule okay for you?" This person wants a minimum of reassurance that everything is on track. A simple "thank you" response to a detailed email would offend him. After all, he has taken the necessary time, and we should do the same, especially with him. If we don't get back to him for a while or leave questions in the emails unanswered, he gets nervous. He loves this type of response to his emails "Hello ___, thank you for your feedback. All points are clear so far. I'll send you the customized version by tomorrow." This person likes to be part of the process and is grateful for intermediate statuses around specific timelines. In the illustration, these can be sketches or preliminary drawings. Before heading into the weekend, he's happy to get an update. He feels involved when we ask for his opinion. My experience is that working with this type of person is the most uncomplicated and guarantees a problem-free process. At the same time, we mustn't get lost in too many meetings and details.
Type C – The writing thinker/the thinking writer:
Her emails are like machine guns. She just writes away. No paragraphs, no breaks. The emails can be refreshing and read like a casual conversation. On the other hand, they can get long in the process, and the person doesn't pay much attention to spelling and punctuation, which might break the reading flow. As she writes, she continues to think about the project, creating new points and questions. We have to go through her emails several times and untangle them to find a structure for ourselves and identify open issues and questions. In this case, it helps to pick up the phone and clarify the points directly. To be on the safe side, we write down what has been discussed again briefly in an email and ask for confirmation that everything has been recorded and understood correctly.
Even if we do not adopt the writing style of the other person, we can assume his rhythm. In general, we should never forget that we can make someone's day with every friendly email we send.